In its broadest sense, the fashion sector represents one of the most important and influential economic and social sectors. This implies that it can greatly impact the achievement, or otherwise, of the 2030 Agenda and its SDGs (Sustainable Development Goals).
And this influence results in positive impacts, but also in negative ones, which increasingly require more attention and prevention. Among them are, for example, the pollution of ecosystems or the working conditions in countries at risk of forced labor.
Moreover, the emergence of "fast fashion", based on constantly replacing clothing collections and encouraged by compulsive consumerism, leads to faster production processes by making low-cost, low-quality garments. These actions encourage easy disposal and greatly impact our planet, both for the resulting pollution and the impact on the people working in this new fashion and those who consume it.
That is why from Zero Defects, have always adopted a working model which aims to minimize the negative impact that the textile industry can cause, both to people and to the planet.

How do we do it?
103 years after we founded the company, we are still in the same plant in Mataró that saw our birth. We follow the same philosophy of producing handcrafted and high-quality homemade products, without seeking mass profit and relocating production to third countries. Therefore, we respond to the "Slow Fashion" model because we are a 100% local, sustainable, and handcrafted company.
And how does this translate to the 2030 Agenda and its SDGs?
< Responsible consumption. Manufacture of durable and timeless intimate apparel.
Our garments stand out for their classic and timeless designs and their durability. We don't make fashion collections with a limited lifespan, but our collection comprises timeless basics whose great durability allows for long-lasting optimal use. In this way, we promote the responsible use of clothing and the reduction of the environmental impact generated by single-use products, decreasing the amount of textile waste.
< Use of sustainable fabrics + constant ID
We use the best natural fibers and sustainable fabrics to manufacture our garments, such as MicroModal®, Organic Cotton or Soya Yarn; natural products from food waste, renewable resources and naturally biodegradable. Furthermore, our constant R&D is always focused on the search for sustainable fabrics and processes.
< Responsible production
We are OEKO-TEX® certified, ensuring our products are produced in an environmentally and socially responsible manner. Our suppliers also hold the eco-label, which warrants that our chemicals, auxiliaries, and dyes are environmentally friendly.
< Commerce at proximity
The companies with which we collaborate to manufacture our products (weaving, dyeing, printing, finishing, suppliers of auxiliary materials, etc.) work as close as possible to our environment, either in our own municipality or region, avoiding transportation costs and encouraging local Km.0 products.
< Waste reduction
We collaborate with the Maresme Foundation, in charge of collecting generated waste and carrying out the subsequent recycling, guaranteeing a correct management of this waste with the environment.
< Dignified work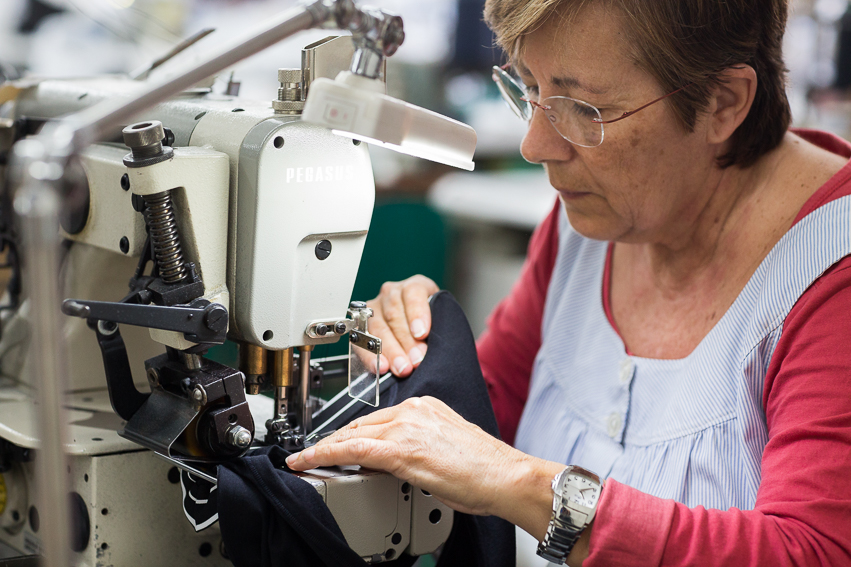 We have been committed to providing people with a work-life balance allowing them to work while at the same time enjoying a good quality of family and personal life. This is achieved thanks to the implementation of a continuous workday, making it possible for them to have all afternoons throughout the year at their free disposal.
Likewise, in recent years, we have encouraged the hiring of women over 40 years of age at risk of social exclusion. We also collaborate with CEO Maresme (part of the Maresme Foundation), through which we hire people with intellectual disabilities in the region at the end of our manufacturing process, the well-known garment "stretching".
Caring never goes out of style
After so many years of experience applying this type of policy, we have seen how managing the company by taking care of the environment and the people who work in it is the best way to contribute to society.
Respect for people and making a fair profit are at the core of our company vision. Our business vision integrates respect for the people, ethical values, the community, and the environment with the management of the company itself. We know how to listen, we accept differences, we treat people with dignity and human warmth in an equitable manner.
But all this would not be possible if it were not for your trust in our products.
Thank you for helping us to make this world a better place. Let's keep doing it together!