Spring-Summer 2022 collection Zero Defects 
Discover the new collection of 100% cotton pyjamas for men from ZD Zero Defects and sleep in the comfort of "Mercerized cotton".
Summer is approaching, temperatures are rising, and sleep is starting to get a little tricky. So, what better way to ensure a cool and comfortable sleep than with our new collection of 100% cotton pyjamas for men?
Mercerised cotton, also known as Scottish lisle thread, is soft, strong and lightweight, providing high-quality comfort and durability. Want to find out more about our collection? Well, we at ZD Zero Defects can do just that.
What is mercerized cotton and what are its properties?
Before we start talking about our collection, it's important you know a little more about mercerized cotton. John Mercer, in 1844, created a process by which the quality of cotton (and other fibres) could be improved. This process consists of submerging the prepared cotton yarns in a caustic solution, which is usually sodium hydroxide. This swells the fibres, making them more resistant and better able to absorb liquids (such as dye). However, not all fibres are suitable for this process. Usually, only longer cotton fibers (such as Egyptian cotton) are mercerized.
Once the cotton has been combed, spun into yarn and mercerized, it can be considered "Mercerized cotton". And what makes this quality cotton better than other materials, especially for summer pyjamas? Well, in addition to being softer and more resistant, the mercerizing process offers a silky feel, more vivid colours (as it absorbs the dye better), and promotes breathability and freshness. This being so, summer short pyjamas made of this quality cotton are perfect for sleeping without getting too hot while enjoying all the softness of the fabric.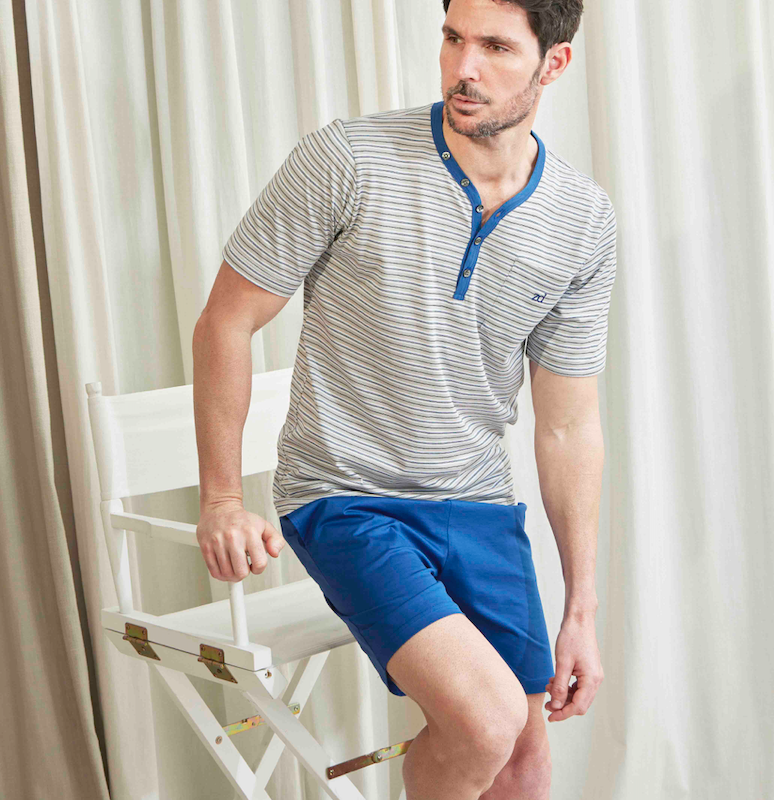 Our new 100% cotton pyjamas collection for men
Men's pyjama "Baker"made with Mercerized cotton
To start off our collection of 100% cotton pyjamas for men this spring-summer 2022, we're going to look at the "Baker" mercerized cotton pyjama. These stylish and comfortable pyjamas are finished with a pair of shorts in a beautiful blue colour. The shirt features a distinctive blue button-down collar and a striped pattern in shades that perfectly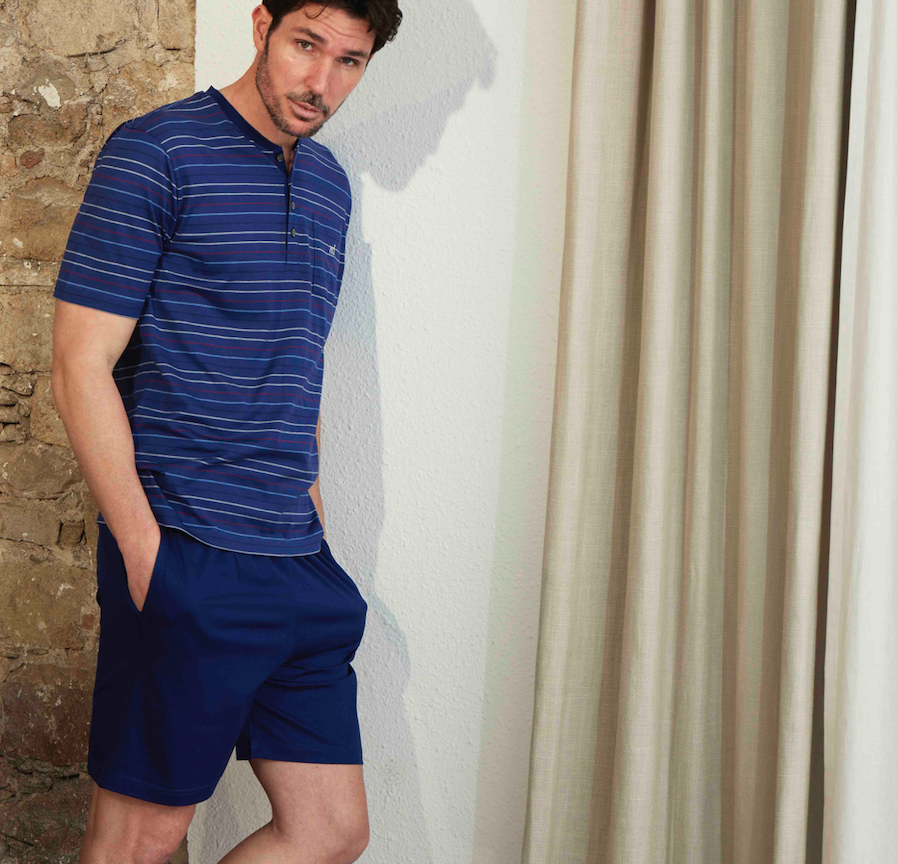 The "Líneas" 100% cotton pyjama for men
Like the blue pyjama above? Well, you'll love our "Líneas" mercerized cotton pyjama. In this case, both the shorts and the T-shirt are a beautiful blue. What's more, the lines of the T-shirt gives it that touch of distinction that characterizes our 100% cotton pyjamas for men. These summer pyjamas are proof that you can sleep comfortably and coolly without sacrificing style.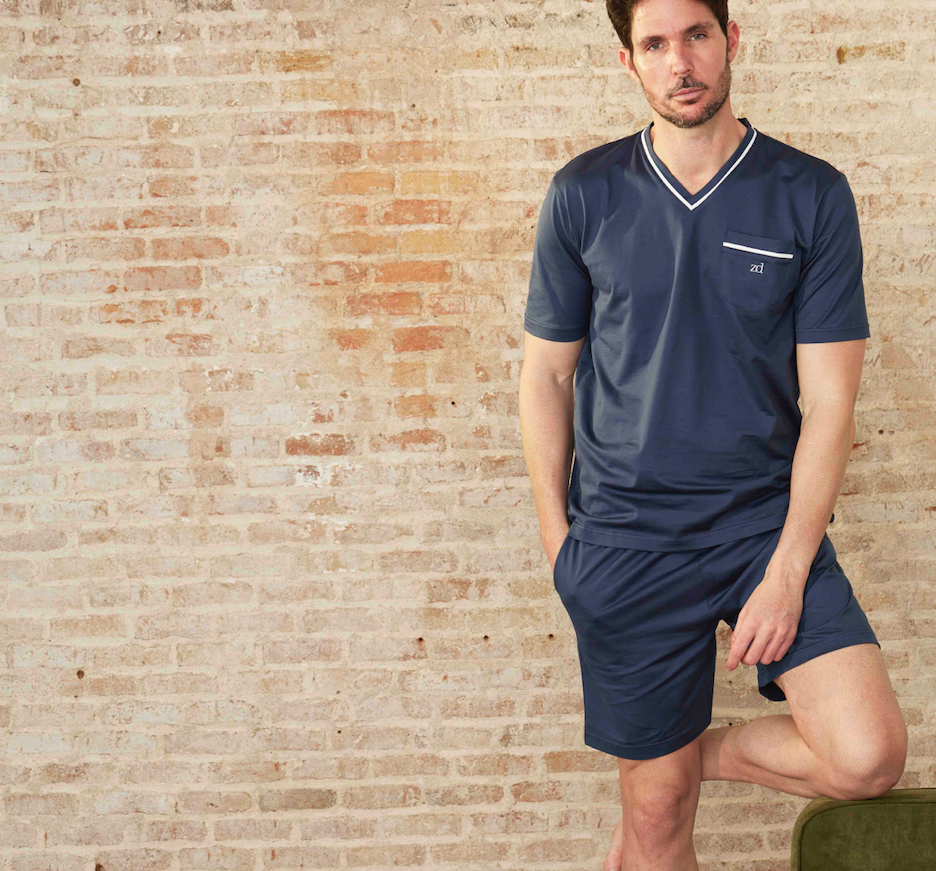 The "Pico marino" mercerized cotton short pyjama
We finish our collection of mercerized cotton pyjamas for spring-summer 2022 with the "Pico marino" pyjama. The white details on the V-neck and pockets provide a visual contrast that highlights the beautiful blue tonality present in both the shorts and the T-shirt. As we mentioned earlier, the mercerised cotton helps the yarn absorb the dye better. The results are the bright, vivid colours that you can see in our short pyjamas.
Trust in ZD Zero Defects for top-quality garments
Like the sound of mercerised cotton? Well, if you want to feel cool in quality cotton garments that are both breathable and stylish, make sure to check out the rest of our Mercerized cotton collection. Visit our website to get your hands on our Mercerized cotton underwear and Mercerized cotton thread socks. As underwear, Mercerized cotton is an expert fabric for keeping you cool thanks to its breathable properties, meaning you'll be comfortable wherever you go. With Mercerized cotton T-shirts, meanwhile, you'll be able to enjoy summer in complete comfort and style, all thanks to our extra quality materials.
Want to find out more about our 100% cotton pyjamas for men collection this spring-summer 2022  Get in touch and we'll be delighted to answer any questions you might have. We're waiting for you!