It's time for a period briefs revolution. Not only is menstruation taboo across cultures, but there's also hardly any information available on it. In fact, there are some downright absurd beliefs and urban myths around menstruation. At  ZD we think it's high time we start talking about it naturally.
Introducing, the Rezeta period briefs. 
ZD has taken a step forward and created a line of eco-friendly period briefs for women's hygiene. Because we believe in a world where women's intimacy is a cause for celebration and synonymous with comfort, safety and freedom!

What is Rezeta?
Rezeta is a new line of innovative women's underwear created by ZD that fuses care for nature and women's intimacy. 
We've created eco-friendly period briefs that ensure women's well-being and care for the planet too, using sustainable practices and processes.
We use high-quality materials including organic cotton and soya, which are Oeko-Tex  certified and don't contain any substances that are harmful to people or nature.
Rezeta period briefs are super absorbent and replace tampons, pads and menstrual cups completely. We've handcrafted them with different levels of absorption – high and medium – so you can use them according to your flow and enjoy your life with total serenity. 
We've always been an inclusive company and we have a wide range of sizes for all bodies. Dare to try them!

Why use Rezeta period briefs?
Because they are undoubtedly the best. They're the "sexiest period briefs on the market". You don't have to wear granny pants for fear of staining, and you don't have to stop feeling super feminine during your period.
Because comfort and safety are guaranteed. Even though they're ultra-thin, they protect and keep your skin dry for 8 to 12 hours. So you can rest assured. 
They absorb menstrual blood, secretion and urine leakage without getting wet.
Because their antibacterial properties remove odours. They're made of fabrics that perspire and wick away moisture naturally.
Because our period briefs are washable and reusable for years, so they help you save money. And while you do that, you're also saving the planet and reducing waste related to menstruation.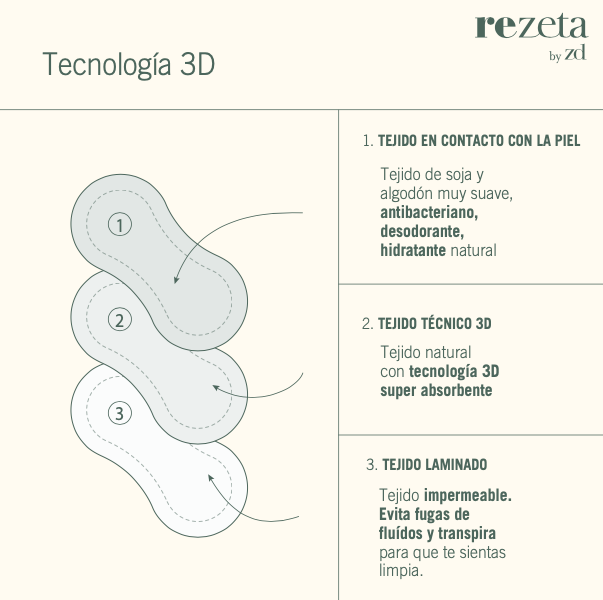 How do the Rezeta period briefs work?
Rezeta period briefs are underwear with a little "trick" inside.
Our briefs have an integrated ultra-thin pad, with three layers of fabric.
The first layer in contact with your skin is antibacterial, deodorising and moisturising. It's made from ultra-soft organic cotton and soy fabric. 
Another super absorbent layer is made from a natural fabric that incorporates 3D technology that retains and drains liquid to ensure you stay dry at all times.
Finally, a layer of breathable laminated fabric prevents fluid leakage so you always feel clean and secure. You'll finally be able to sleep soundly!
Join us in the revolution!
We're committed to sustainability, km 0 and slow fashion. The women who work at Rezeta were the first to try the period briefs that we handmade ourselves.
Some of us were sceptical at first, but when we tried them, we had to admit that we were wrong. Because for the first time, we had no leakage and no stress! 
For us, it's changed how we live with our period and how easy it is to take care of our underwear to make it last for a long time. So here are our tips:
After use, rinse your briefs in cold water, then wash them by hand or in the washing machine, but at 30 degrees. Use neutral detergent, not fabric softener or bleach. To dry them, hang them upside down. Don't tumble dry and don't iron. They'll last for years!
Today, we know that disposable feminine hygiene products are hurting the planet and your wallet. That's why we're working in an ethical way. 
"To make eco-friendly period briefs the natural alternative".