At ZD, we started working on a design with the simple goal of "creating the perfect white T-shirt". 
We have reworked the "iconic white T-shirt" in our design studio, without compromising on quality, style or our code of ethics when it comes to our planet and people.
Made using organic cotton or soya thread, our shirts and T-shirts feature the highest quality and are made here in Spain, demonstrating our work towards sustainability and clothing that lasts over time.
This means that wearing a ZD white T-shirt not only ensures a great look, but also reflects who you are and your values. However, first let's explore…
Why are T-shirts white?
In Victorian times, people wore white colour clothing to give off an important symbol of hygiene, class and sobriety. This custom endured until William Cotton invented the knitting machine, making it possible to mass-produce clothing.
If we fast forward to the 50s, we see that the white T-shirt became a symbol of identity for teens looking to mirror film stars of the day, including Marlon Brando, from the famous movie "A Streetcar Named Desire" and James Dean in his iconic role in the hugely successful "Rebel Without a Cause".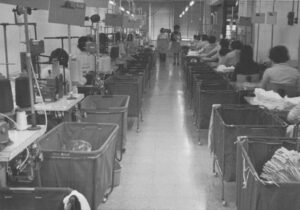 The classic garment was also adopted by women who sought to imitate their favourite female actors like Marlene Dietrich, Marilyn Monroe and Katherine Hepburn, who wore white T-shirts as a symbol of equality and to portray a modern look.
These trends meant that the white T-shirt became an icon for men and women.
Reworking a classic icon
However, the 20th century brought with it the need to rework this iconic piece of clothing. This is largely due to the fact that T-shirts have come to be viewed as a worrying item of clothing when analysing the environmental impact of their production and distribution.
This has meant that the garment is by no means exempt from significant controversy that has damaged the product due to associations with cheap production, low quality fast-fashion and the production of these products in places where workers' rights and environmental considerations aren't taken as seriously as they should be.
ZD came into being as a result of that very need for moving forward with fashion and being environmentally friendly at the same time. We aim to continue designing the perfect plain white T-shirt, made beautifully by hand using carefully selected raw materials.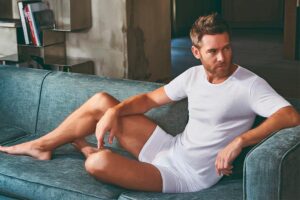 Our men's and women's cotton T-shirts are designed as basics that are meant to last. The same applies to pieces made from soya fabric, which are an authentic pleasure to wear.
The tradition, innovation and progress that we've dedicated ourselves to in everything we do has allowed us to keep this iconic garment alive and relevant and we feel it represents a piece that is extremely handy for wearing either under clothing as a layer or to get that super causal and relaxed look by wearing it as an outer garment.
The Zero Defects White T-shirt
The look evoked by somebody wearing a white T-shirt and a leather jacket is the polar opposite of that of a punk covered in pins and holed pieces or the white T-shirt worn by an executive as a layer under their shirt.
… But it's still "the same plain white T-shirt".
It all depends on how we match it or the look we want to achieve when putting on that classic white shirt in order to turn the garment into a piece that can be either counterculture, elegant, preppy, conservative or a great wardrobe basic, depending on how we wear it.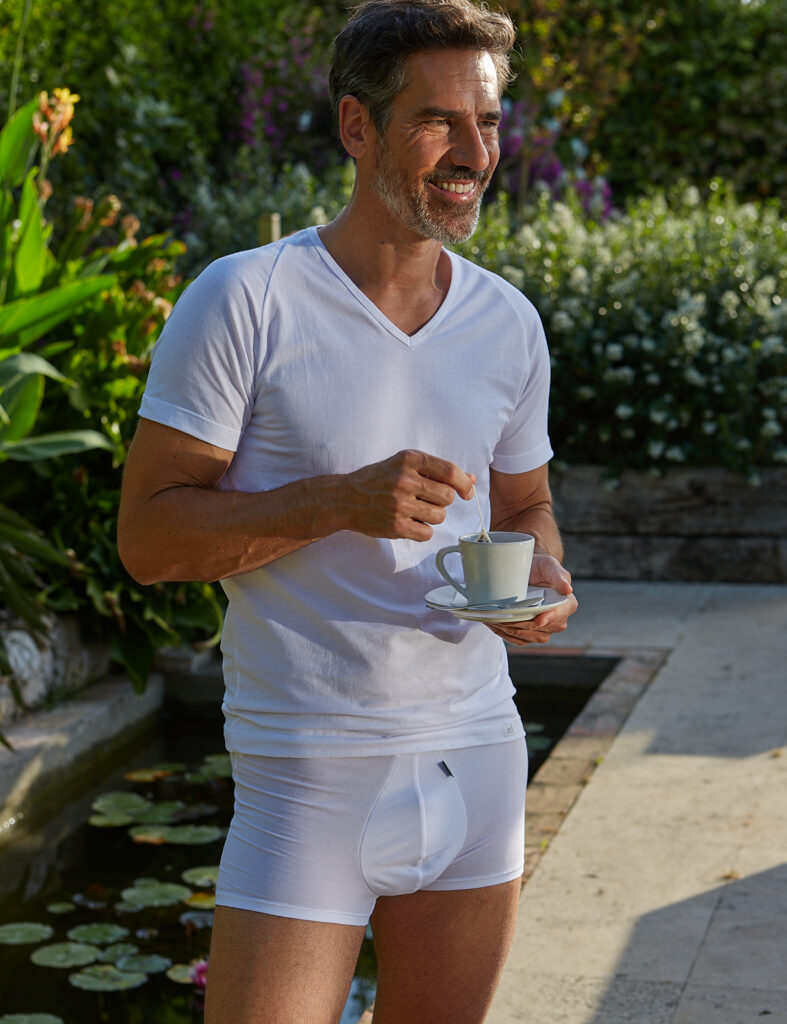 When it comes to designing the perfect "zero defects" white T-shirt, we believe in finding the perfect combination of an excellent shape, perfect fit, high-quality handmade processes and sustainable materials. Making sure we tick all of these boxes helps to ensure that the piece retains its high-quality touch and fit after each wash, creating the perfect comfortable fit for its wearer.  The key is… to achieve a perfectly reworked garment that we consider an essential fashion icon